I am in my final semester of graduate school, getting ever closer to earning my master's in public relations. This semester, I'm taking a class called "Managing Online Platforms." This class is pushing me outside of my social media comfort zone and making me think about my personal online presence more strategically. As a part of this class, I am reading "Branding Yourself" by Erik Deckers and Kyle Lacy. This book gives a simple step-by-step guide for personal branding online. As I've been reading this book, I've become increasingly interested in this topic of self-branding and self-promotion. I'm especially interested in how Twitter can be used strategically to grow my personal brand.
In my pursuit to better understand self-branding, I came across a really great article on marketingland.com called "How to Grow Your Personal Brand on Twitter in Only 10 Minutes a Day" by Neil Patel. This article caught my attention because of the "only 10 minutes a day" bit in the title. I'm a busy person, working full time and working on my degree at night. I don't have as much time as I'd like to focus on building my personal brand online. Although it may seem quick and easy to post on social media, in reality it can be a time consuming endeavor. So, I found this article extremely helpful because it gives quick and effective tips for building your personal brand on Twitter. I summarized the most helpful suggestions below.


1) Learn the Twitter Basics
The article starts by encouraging the reader to learn how to use Twitter and provides some resources to do so. I'm assuming most people understand the gist of Twitter so I'm not going to spend time on this step (you can read the article here if you want to learn the basics about Twitter).


2) Be Active
The next helpful tip is to be active every day. Patel writes, "Simply being active on Twitter helps get you noticed. Don't let up. Stay on it."


3) Increase Your Follower Count
Patel also recommends that you follow at least two new people a day. You have to follow people in order to gain followers. But, don't overdo it. You don't want to follow significantly more people than follow you. You may be asking yourself, 'who should I be following?' Patel suggests that you follow leaders in your industry. Engage with these leaders by replying to their tweets or retweeting their content. This will help you eventually become a leader in your niche as well. In addition, follow the people whom industry leaders follow. You can also use the "Who To Follow" tab to help you find a curated list of people who you might be interested in following. And lastly, following back anyone who follows you is a general Twitter courtesy.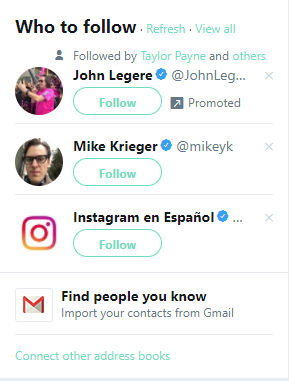 4) Keep On Top of Your Notifications
In addition, make sure you are staying on top of your notifications. The point of Twitter is to engage in a conversation. Make sure you are replying to people, thanking them for retweets, etc.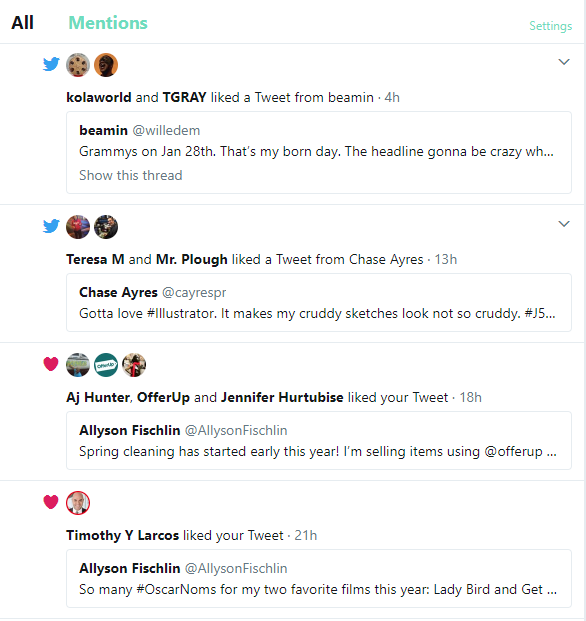 5) Tweet About Trending Topics
Another suggestion from Patel is to tweet about trending topics, especially if those trends pertain to your niche. Most trending topics can be tailored to fit within your personal brand. For example, a trending topic while I wrote this blog post was #NationalPeanutButterDay. While peanut butter doesn't overtly seem to fit my personal brand as a digital marketer, I might be able to find a unique marketing campaign by Jiffy or another peanut butter brand to share. Also, make sure that you are using hashtags in most, if not all, of your tweets. This will help you gain followers and traction.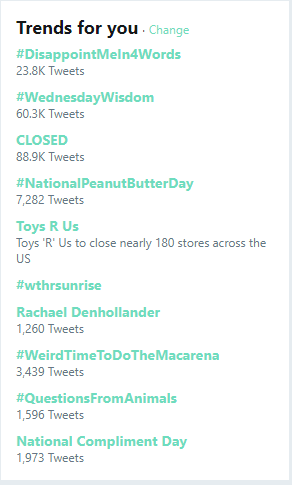 These easy-to-follow steps will help you increase followers and improve your personal Twitter brand. I hope you find this list helpful. I know social media can seem overwhelming, but sometimes it is better to go back to the basics. Tweet often, make sure your content is relevant and interesting to your niche, and engage with others. You got this!

Here is the link to the original article.

Please share your thoughts and questions!